I just wanted to share something I stumbled across in my Reader this weekend.
Rebecca at Sew Festive Handmade
is hosting a Christmas in July Blog Hop / Tutorial Share starting next month to get our creative juices flowing for what to make for holiday gifts this year. I can't wait to see what projects are shared, and there promises to be some great prizes too!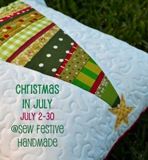 I am one of those people that procrastinates when it comes to holiday gifts. I think the earliest I think about them is the Monday following Thanksgiving. That doesn't leave a whole lot of time to whip up some lovely handmade items.
This year could be different though, thanks to Rebecca!
Jen