After spending a tiring day at Disneyland with the girls yesterday, we all agreed a lazy morning around the house would be nice. Bonus, it gave me a chance to catch up on my "computer work" AKA blog reading.
It seems throughout blogland, people are pondering the New Year and making resolutions of all types. If you remember, I was even considering making a linky party for quilty-resolutions for the New Year - again, I was not alone in thinking this would be a great idea. Rather than duplicate what is already out there, I thought I would share some of the linky parties that are available.
1) A
New project Link up at Cat Patches
:
Have a bunch of new projects or patterns that you intend to make? This is the place to share! Only 4 more days left before this month's linky closes.
2)
Project UFO at Cut to Pieces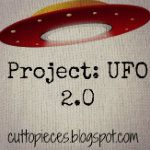 This is just a support group for anyone working on UFO's. No pressure! Just join the
Flickr group
and be encouraged. You can make a mosaic of the UFO's you hope to tackle or just put them in a thread. You can even gift a UFO to someone else in the group if you know you will never touch it again. One quilter's trash is another's treasure!
3)
A Lovely Year of Finishes
hosted
Melissa of
Sew BitterSweet Designs
and Shanna of
Fiber of All Sorts
This one looks a little more intense than some of the others - with a beginning, middle and end of the month check in. BUT you only have to pick ONE project! If you really need some serious accountability to get stuff done - this might be the group for you! There is also a Flickr group to join, but first read
this post by Melissa
which includes a link to some Q&A. There are 4 more days to complete the initial link up.
4)
Pigtales and Quilts - A simple Monthly To-Do list link up
Just make a list of 5 things you want to get done during the month and link it up.
5)
The Year of the Finished Project hosted by Never to Hot to Stitch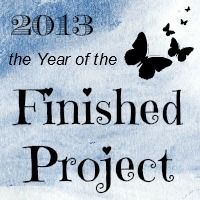 Lynne is willing to accept other crafty projects in her monthly link up and you can make up some of your own rules too!
6)
2013 Finish Along with Leanne at She Can Quilt
This one is also for UFO's - projects that are started but not finished. This one is a quarterly link up, which is nice. We all have months when we get a little out of control busy with other things! There is also a Flickr group associated with this one.
Deb at Quilting and other Craft Therapy also has a great list of linkies, challenges and BOM's
going on (some are the same). So if the ones above don't appeal to you, check out her post and maybe you will find what you are looking for!
Many of these link ups also have prizes. Pick one or many to participate in.
I plan on deciding today which ones I will join up with, and make my lists/posts soon. There may even be cause to create/update a page or two in the process.
One thing I have realized for sure, is that I can't do everything! Profound, I know! My original quilty-resolution list was about 15 items long = not exactly realistic. I'm going to revise it a tad before going public.
Which groups are you joining in the New Year?
Jen